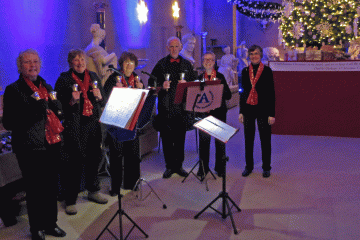 "Great Expectations" was the setting for our carol concert this year.  A ghostly Miss Havisham glided into the Gallery from her cobweb covered, yet magnificent, dining room as we arrived….. 
Thursday afternoon:
We set off in plenty of time to reach Chatsworth and set up our bells ready to ring at 5:30pm. It always takes longer than we think to check in and be shown into the Sculpture Gallery where we play. This year we were led in through the house itself and so got a glimpse of the wonderful decorations and trees on display and actors dressed in Dickensian costume. What a magical sight!
Tonight we have a team of 8 ringers plus Wendy, our conductor, enabling us to change in and out as only 6 of us play at any one time. It is quite tiring playing for 2 hours and standing for that length of time. It is always chilly at Chatsworth and those of us who have been before know to go prepared with plenty of layers and warm drinks.
We set up our stands and music, picked up our bells and had a run through of a couple of carols before people started to filter through from the guided tour of the house. Initially only one or two people came through but then larger groups appeared; some just walked through, others stopped to listen, some for more than one tune. We had some gentle applause and many favourable comments as to how nice the bells sound. We rang a selection of carols and Christmas music and finished ringing at 8pm.
Friday afternoon:
We woke up to snow this morning and wondered what the weather would be like up in the Peak Park; set off mid afternoon for Chatsworth not knowing what sort of journey we would face. We had not had any further snowfall but the higher parts of the route still had compacted snow on the roads, which made driving hazardous in places. However, once we reached the A6 the rest of the route to Chatsworth was clear.
We set up our bells as on the previous night but tonight we are a team of 6 plus Wendy, meaning we are all ringing all of the time. Wendy rings bells occasionally to give each of us a break but this means we then have no conductor.
Good ringing again tonight and many appreciative comments once again. Some young children helped us out by ringing our sleigh bells along with us for 'Jingle Bells' and they really enjoyed that, so much so that one family came back for another go.
We closed the evening again at about 8pm and made our way home, this time using the main roads, as by this time it was freezing, and although this took a bit longer at least we all arrived home safely.
All in all a very enjoyable couple of evenings in the run up to Christmas.
Josie 9.12.17
Photos by Alan Walters